Spall Clark Solicitors help Rabbit Rescue North West give rabbits a new start in life
Spall Clark Solicitors is celebrating the success of its charity of the year initiative by making a donation to Rabbit Rescue North West. Spall Clark donates a portion of its profits to local charities each year through its charity of the year initiative and have been supporting Rabbit Rescue North West with their mission of caring for and rehoming unwanted rabbits. The donation will be used to help fund the living costs of the permanent stay foster bunnies with the remainder of the donation being used towards vets bills, vaccinations and neutering (which all bunnies undergo before being rehomed).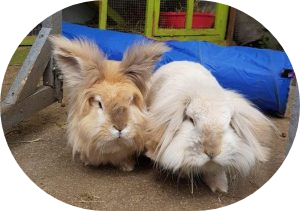 Jessica Wood, Trustee and volunteer at the rescue says 'we would like to thank Spall Clark Solicitors for their kind and generous donation to Rabbit Rescue North West. The funds will make a significant difference to all the rabbits that come into our care and we want to thank them for all of their continued support'.
Paul Clark, Managing Director of Spall Clark Solicitors commented 'we have been delighted to have Rabbit Rescue North West as our local charity of the year. As a firm of animal lovers, it is a privilege to be able to support such an important cause – one that is also very close to our hearts. Rabbits are complex animals and they are actually considered 'exotic pets' by vets due to the level of care they require. It brings us a lot of joy to know that the donation will make a real difference to the charity and help them to care for rescue rabbits such as Flower and Davey that desperately need the support of such a fantastic charity.'
You can read more about our charity of the year initiative with Rabbit Rescue North West here.
About Rabbit Rescue North West 
Rabbit Rescue North West is a charity dedicated to rescuing, rehabilitating and rehoming bunnies in need in the Cheshire and Greater Manchester areas. They also aim to educate the public about rabbit ownership which includes raising awareness about their dietary and accommodation requirements together with their general welfare needs.
How you can help to support Rabbit Rescue North West
The volunteers at Rabbit Rescue North West work tirelessly to look after the bunnies in their care together with raising much needed funds which enables them to continue their great work. In addition to donating, there are a number of other ways in which the general public can support the rescue including sponsoring a bunny, shopping via affiliate schemes such as Amazon Smile, providing supplies, purchasing merchandise and leaving a gift to them in your Will. More information about Rabbit Rescue North West and further details about how you can support them can be found at: https://www.rabbitrescuenorthwest.co.uk/how-you-can-help-us/
You can also help Rabbit Rescue North West to raise awareness by following them on social media and sharing their content and fundraising pages:
Facebook: https://www.facebook.com/search/top?q=rabbit%20rescue%20north%20west
Facebook fundraising group: https://www.facebook.com/groups/2029619723922686
Instagram: https://www.instagram.com/rabbitrescuenorthwest/?hl=en